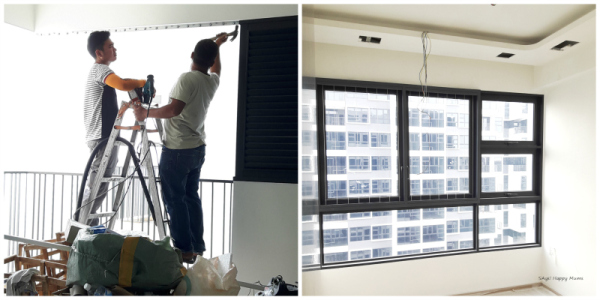 25 May

Renovation Matters

Lighting, Window Grilles & Carpentry

Two days after the base coat was painted, my contractor returned to carry out works for lighting and invisible grilles installation.  Measurements for carpentry works were already completed earlier so fabrication off-site is underway at this stage.

Invisible Grilles

By CSA Group (Mr Chong, the boss : 85889339)

Pat gave me the direct factory contact whom her ID tied up with. She saved me lots of pain and cash without going through any contractor or ID.  I trusted the quality material seen at her house.  They are ALL 316 Stainless Steel including bolts and washers.  Had it not been for a visit to Pat's house, we would not have had the opportunity to witness and compare between the installation at her house and that from her next door neighbour's balcony's rusty grilles!  Both moved in for only about 1.5 years when we visited few months ago.  In short, the cables visible to us might have all been 316 Stainless Steel.  Question is – are those hidden bolts, nuts and washers inside the track equally same grade or purely using cold galvanised mild steel which could rust over time??  Ask your contractor specifically this if you're looking at installing invisible grilles.

I contacted Mr Chong to give a group buy price for all the neighbours who are keen at my new place.  He gave a very good price compared to that of other invisible grille companies.  If you are going to collect keys to a new development, can consider contacting him for group price.  I don't benefit from mentioning about his services in this blog post.  Merely sharing an awesome "lobang" because I'm satisfied with the quality and service.

From his demo, I saw a mini sample board of what was going to be the actual installation.  He assured that his stainless steel components are sourced and backed by Malaysian supplier (although he admits that the Malaysian supplier might have gotten their stuff from China).  In short, he assured that a backing by Malaysian counterpart is more trustworthy that that from China.   The cables are protected from the elements against rush using a nylon coating (that looks like plastic to me).  Pat who also feedback that the after sales support was great when she needed CSA team to coordinate with the motorized blind contractor for servicing, CSA removed their grilles and did reinstalled it again without further questions asked.

I have installed invisible grilles in my whole housee.  There were some window panels being pre-fabricated in the factory with tightened cables before they delivered to my house.  Although it sped things up, I had some problem opening my window lock at three out of four rooms due to the cable blocking my way (my hands are small).  I had a pretty long session with the super well-mannered (!) supervisor who went through all the installation with me and worked out an adjusted cable spacing that best fitted me without discomfort.  I left the workers at my house again when it was time to pick up the kids.  By the time I returned in the afternoon, I was pleasantly surprised to see Mr Chong himself inspecting the works with his supervisor before letting the workers knock off for the day.  And Mr Chong himself went through the house installation with me personally.  I was totally impressed with his personal dedication to his business and felt my money very well spent.  On the other hand, I thought it could be because I called him to complain that my hand hurt, that's why he dropped by to find out why?

Before I lock the door in the evening, I spotted this bunch of waste cable and wondered why so much wasted.  Both Mr Chong and his supervisor said nothing about it earlier.  It turns out that this cable can no longer be used once adjustment (clamping during tightening and unclamping during adjustments) has been made to the tightened installation.  The nylon coating will crack once the clamp is released and will result in water trapped within it causing water rust.  As nearly all my rooms needed adjustment, they quietly wasted this length of stainless steel cable without mentioning a word of complain.  Super paiseh on my end too.